03/05/22
ELLIPSIS X ATIS
atis Art Initiative 
With the opening of our Notting Hill site, we have launched the atis art Initiative. Each of our spaces will be dedicated to showcasing a variety of artists across our beautifully designed spaces. Beyond making real, nourishing food more accessible to Londonders, supporting communities through our welcoming and inviting spaces has always been at the centre of what we set to out to do. We want to have stores where people can come alone or congregate with friends and feel welcome and part of something special. As we grow, and our community grows, we want to use our spaces and business to help support groups of people who need it. This mission has taken various forms to date – be it volunteering for our charity partners, or providing a platform for young, creative people to share their passion and skills with a wider set of people from graphic designers to florists. 
Most recently, for our Notting Hill opening, we have collaborated with art curator and writer Kate Neave to bring together a collection of passionate and talented artists for the walls of Pembridge Road. Amongst many other ventures, Kate began Ellipsis Prints to give voice and attention to womxn and non-binary genders, a segment of the art world that continues to struggle for the limelight in a world that is to date very male-centric. Through Ellipsis Prints, Kate has created a special venture in which these artists come together to do workshops on risograph printing, a form which is a move away from these artists original form. All profits go back into widening this network, by bringing new artists together, the studio work and then  printing and ultimately exhibiting their works.  We are very excited and honoured to display the works of these talented womxn artists in our space and hope that you enjoy the journey of discovery about this group of people and their work as much as we did. These artists deserve attention and appreciation. All prints are commissioned for Ellipsis and are editions of 100. They are available to buy direct from the website.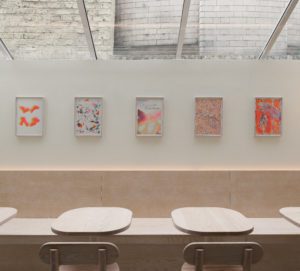 About Ellipsis
Ellipsis Prints commissions new risograph prints exclusively from the most talented contemporary womxn and non-binary artists. Through these commissions, Ellipsis Prints enables artists to train in a new area, expand their practice, experiment and take risks. The project encourages the development of artists' careers by providing visibility, sales and support.
Ellipsis Prints works exclusively with womxn and non-binary artists in order to address the gender imbalance still prevalent in the contemporary art world. An 'ellipsis' is the '…' symbol. It represents those genders marginalised by the mainstream art world that are prioritised by this project.
An important aim of the project is to grow the number of works by womxn and non-binary artists currently in contemporary collections. Ellipsis Prints aims to enable access to artworks by the most promising names in contemporary art and to increase awareness and appreciation of contemporary art.
Artists Displayed in atis Notting Hill
Hannah Lees – Magdalene Hands, 2019
Valerie Savchits – I Say No, 2021
Kim Booker – End of Summer 2013, 2021
Sanyoung Hwang – Fossil, 2021
Milly Peck – Spot Effect: Entrance, 2019
Yulia Iosilzon – Amonita Mushroom, 2021
Olivia Strange – Wilful Submission ii, 2021
Jala Wahif – Cry Me a Waterfall (Close My Eyes I Dream of You in Slow-mo), 2021
May Hands – Scattered Objects, 2019
Bea Binafini – And her heart flew out of her mouth , 2019
Daisy Parris – I Like Myself, 2019
Photographs by @piercescourf